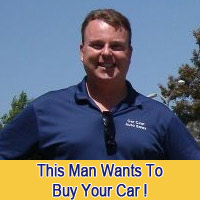 Welcome to CarCzar Auto Sales –San Diego's premiere auto buying service that strives to make your automotive experience easy and hassle free. This year, in 2020, CarCzar celebrates 13 years in business. Thank you San Diego!
Gavin Millay, the company's owner, is also known as "the CarCzar". Gavin is a San Diego native and an experienced automotive business veteran.
Gavin earned his title as the CarCzar over the last 22 years learning about every aspect of the car business; sales, parts, service, detail, auction, retail and others. He has all the insider knowledge to get you the best deal when selling your car.
Gavin understands that most car sellers need knowledgeable assistance to get the best deal possible. He also knows they want to feel confident that they have been treated honestly and fairly. Gavin will explain all the details that are a part of determining a fair price for your car. The CarCzar is your free expert assistant that you can trust.
CarCzar started operations in 2008 and has provided thousands of people with the support they needed to sell their car at a favorable price.
CarCzar is proud to have an association with Premium Auto Wholesale in Escondido, CA.
We are here to help you sell your car. Please call or text me today at 858.382.1661 or fill out our web form and we will contact you.